EYES appreciates your business – and your trust. In an effort to provide the best support
to the future of Sierra Leone, we would like to introduce you to our online Partners page.
Royal Dynamite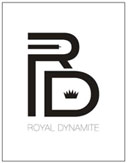 Royal Dynamite (RD) was started by 2 Sierra Leonean Entrepreneurs and is a socially responsible community based t-shirt line that prides itself in fan favorite t-shirts and collaborations. They embrace the idea of "Collaborative Style for Awareness" through partnerships with other businesses, brands, and artists to support education, and other important causes. They recently launched RDCares One-for-One Initiative; for every t-shirt bought, Royal Dynamite will donate an educational package (bag, book, pencil, eraser and sharpener) to a child in need through their RDCares program. Their goal is deliver the best customer service, while keeping the line fun, exciting, and intriguing. Royal Dynamite t-shirts are part of a dynamic walking art exhibition inspired and designed by you, the RD customer. Royal Dynamite, partnered with EYES to help facilitate their scholarship initiative through their educational packages as a part of their commitment as promised. As both organizations grow, they look to provide more resources and scholarships to more deserving student in Sierra Leone thus creating a better future for a nation once referred to as the Athens of West Africa. Join the movement by donating to EYES or buying a Royal Dynamite t-shirt.